-by Jeremiah
A long time ago, in galaxy far, far away... Okay, it was this past Christmas in my own home. I managed to somehow score a copy of Imperial Assault, and over Christmas break my boys and I got it on the table. It was immediately evident that this game was in dire need of a custom insert/organizer. There are a ton of different card types, minis, tokens, and all of the modular board pieces! It just so happens that the nice folks over at The Broken Token have just such an item in their catalog, and they were kind enough to send one my way. Here's a look at my journey from a box full of components to the sweet bliss of organized game components!
Just gets thrown in a box without an insert!
Yes, that's right. This insert is a little more involved so instead of shipping in a sealed plastic bag The Broken Token actually ships this one in a box.
There are nine different pre-cut wood panels, plus a lid for one of the trays you'll construct that's packed individually. The nine panels all have various shapes and sizes to make up the different trays of this organizer.
I decided to clear off the game table and lay the panels out in numeric order, so that as I followed the instructions it was easy to find the piece I needed. I highly recommend that you don't punch all of the pieces out and then try to build the insert; leave them in and punch them as needed!
The whole thing took about an hour to build. Of course, that includes stopping every so often to set up and take photos, but give yourself about an hour to put it together.
Constructing the insert was just about what I expected (in terms of difficulty) having built a few of The Broken Token's inserts in the past. They recommend using wood glue on any joints that are loose, but I found that it wasn't necessary; everything is holding pretty tight on its own! The insert consists of a series of trays than stack on each other, and fit side-by-side in the box. They're all very well done, especially the trays for the tokens, which have labels burned into the bottoms of them so when you're putting things away you know what goes where. The card trays are also nice; there's one tray for the poker-sized cards and one for the mini cards, with adjustable dividers in them to make them work best for you. (I'll probably play around with the way those are set up, using the app that Fantasy Flight released; there are quite a few cards that don't get used anymore). There are two trays for the miniatures. The instructions say you can leave out dividers to accommodate more minis, and I recommend this. They just barely fit all of the base game minis as is, so if you add more you'll have to get a little more creative to get them in. The AT-ST is left to sit in a nice little spot of negative space within the box, which works well for a piece of that size.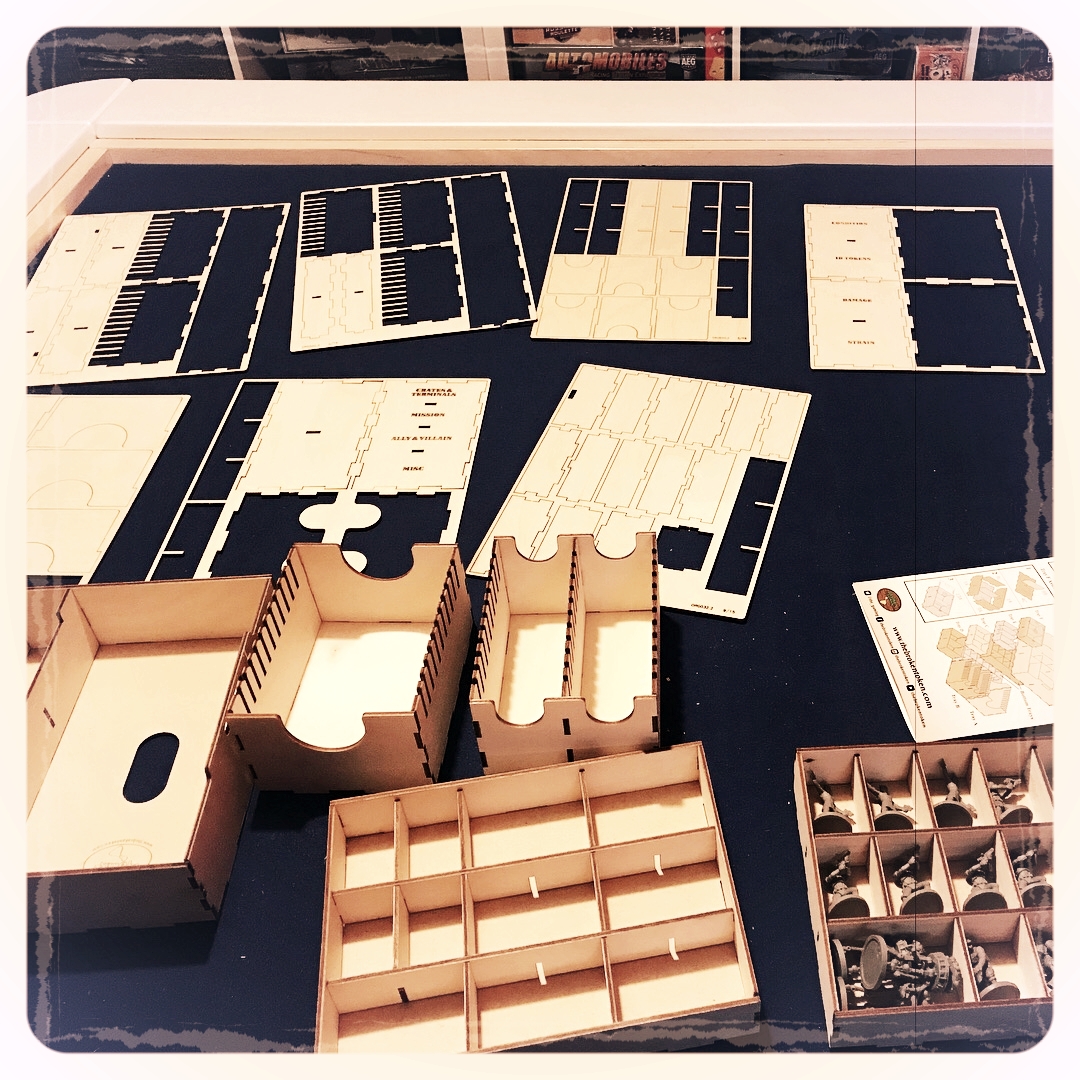 The Verdict
This is my third custom insert from The Broken Token, and so far I've seen great consistency in the quality. All of the joints have nice snug fits--but not so tight that you can't put it together or break it in the process. But it's not just structurally sound. The design works well for the massive amount of components included in this game. I would have liked more space for additional minis, but there's some wiggle room by removing more dividers, or using the space next to AT-ST. All said and done, this insert is a God-send. There's no way any of these components are staying well organized without it. Sure, you can use baggies to hold tokens and cards, and keep some of the minis together, but setup and cleanup are soooo much easier with this insert! Not every game needs an organizer, but some games are just a hot mess without one, and that's the case here. If you're playing Imperial Assault, you need this insert!
Thanks so much for reading! Do you have a copy of Imperial Assault? Do you have this insert? Do you agree with me? Let me know below in the comments or by clicking the Contact Us tab up top!
Theology of Games would like to thank The Broken Token for providing a review copy of their Imperial Organizer. This in no way shaped our opinion of this title.